LFW Awaydays – Scunthorpe, Glanford Park
Wed 27th Apr 2011 19:34 by Awaydays
Was it Adele who sang about her home town? Was she referring to Scunthorpe? Probably not.
On the pitch
Interviewing footballers can be dull. Every question is flat-lined with some tired old line about working hard, enjoying training, the team being the most important thing, no complacency setting in, one game at a time and so on. This is because whenever one of them does actually speak their mind it's immediately leapt upon and used to beat them to death with. Fines are handed out for meagre Twitter comments, perceived derogatory comments from future opponents are pinned to dressing room walls and condemnation comes from all angles when Joey Barton says (quite rightly) that Gareth Barry is as slow as a bus. So who can really blame them for sticking to the tried, tested, safe and boring lines?

Ashley Young can have a whole two page spread written about them without ever once mention being made of his penchant for masturbating on Chatroulette – because he' surrounded by agents and advisers and if a journalist dared to ask him about it the interview would be ended and his paper wouldn't get an interview again. These days it doesn't even get to that stage because they bring out the super injunction before the original pictures even make it into print.

So it's incredibly rare to find any sort of interview with any sort of football that isn't horribly dull and all about their charity work and how terribly well everybody at Aston Villa gets on regardless of what you might have read with no mention of extra marital affairs with Big Brother models, late night jacking off sessions on webcams or arguments behind the scenes at our biggest clubs.

You wouldn't have found a single QPR player the week before this game admitting: "yeh, to be honest we reckon we're almost there and we're looking forward to playing Scunthorpe because they're not all that." Consequently the Ealing Gazette and Fulham Chronicle website offered up one piece after another from Bradley Orr, Clint Hill, Neil Warnock and others all saying the right things about keeping their minds on the job, not being complacent, taking the game very seriously and so on.
QPR have lost four away games this season. This man has been at all of them. Your mission, if you choose to accept, is to prevent him attending this Saturday's game at Watford.
The proof, as they say, is in the pudding. QPR were as good as their word to start with, scoring a fine goal through Rob Hulse inside five minutes to take the lead. But after that the finishing of several gilt edged chances betrayed something of a carefree attitude and as the chances went begging, so the Scunthorpe confidence and momentum grew. The marking for Joe Garner's equalising goal was sloppy in the extreme and with their tails up Scunthorpe simply outworked and out enthused Rangers for the rest of the game. When Paddy Kenny is dropping a simple cross, as he did for the second goal, and Clint Hill is trying to shepherd a ball dead instead of clearing it for a throw in, as he did for the fourth goal, you know perhaps the team isn't as focussed as it might have been.
Is it just me, or does that camera gantry look like a bit of an afterthought?
No complaints, Scunthorpe were very good and QPR were very poor. By the time Monday came around the local press were full of apologies from the players and they've done enough this season to be forgiven on this occasion.
Scores >>> QPR performance 3/10 >>> Opposition performance 9/10 >>> Referee performance 5/10
In the stand
Glanford Park was built in 1988, the first new ground in this country for 33 years at the time. It was built on the cheap – Brighton have spent £100m on their new stadium while playing in League One, Scunthorpe spent £2.5m on their ground and were basically given it for free by supermarket chain Safeway. Around the ground now is a sea of restaurant chains, supermarkets and shopping outlets but back in 1988 Safeway were adamant that they wanted a supermarket right in the centre of town, so paid for Scunthorpe to move so they could have their Old Showground home right in the middle. Nowadays supermarkets recognise that they need enormous stores built on the edge of towns, often along with a football ground as is the case at Chesterfield and Coventry, so Scunthorpe have done things a little bit about face.
The ground already looks its age, and was clearly built with a budget in mind. There has been talk, pretty much since it was finished, of building a new stand or two and even moving to a new ground elsewhere all over again. The pitch is so tiny it's barely within league limits for a start. QPR were given the stand behind the goal, where the 1,800 seats were an afterthought bolted onto a terrace when Aston Villa offered them as spares from their Holte End development as part of a deal to sign Neil Cox, and a portion of the side stand as well to cope with a larger following then we've ever brought here before.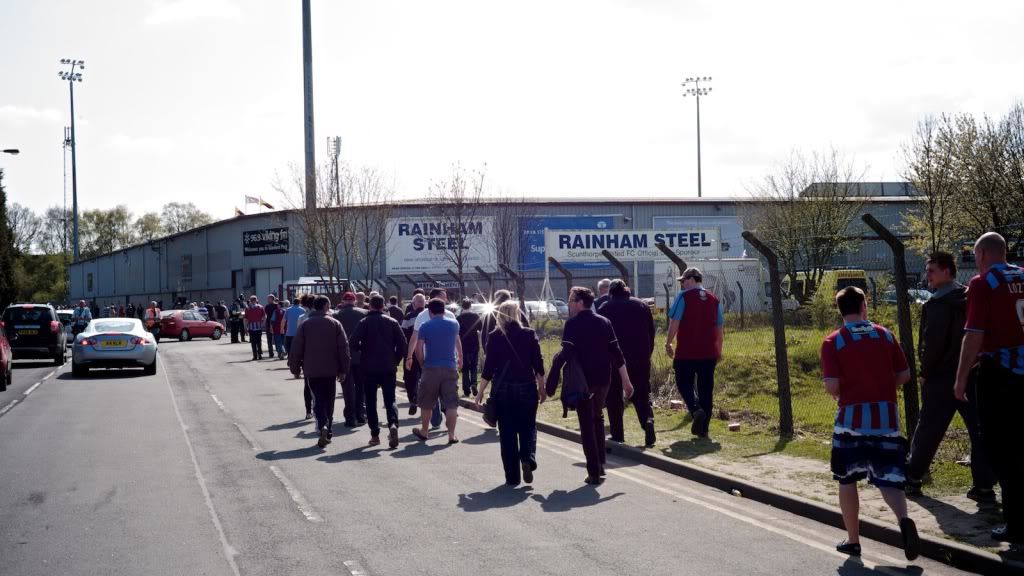 Like North Lincolnshire's answer to the Azteka Stadium, Glanford Park rises majestically from the shadows of Pizza Hut.
The atmosphere was very good to start with, aided by the glorious weather, fantastic season so far and early Rob Hulse goal. Inflatables included a shark, crocodile and large paddling pool being tossed around. However as the game turned against Rangers so the fans went against the team and, as detailed in the match report, I was really disappointed with the abuse copped by Hulse. I'm not saying he's been a good signing (he hasn't), or that he's playing well (he's not), or that he's doing all that he could to turn his form around (he's not) but the way fans are so eager to leap on everything he does whether it's actually his fault, or a mistake at all, leads me to believe they're just slagging him off because he's the latest target. Here he scored a very fine opening goal but was still widely abused in the second half by fans who were only a matter of yards away from him such is the design of the ground and I don't really know what that achieves.
It'll probably be alright, it's only 3-1. Oh, no, wait…
But then as somebody near me shouted "you don't know what you're doing Warnock" during the second half I don't think clear and logical thinking was very high on the agendas of some attending this game.
Scores >>> QPR support 6/10 >>> Home support 5/10 >>> Overall atmosphere 5/10 >>> Stadium 5/10 >>> Police and stewards 6/10
On the road
It always makes me smile seeing the London based QPR fans travelling up north by rail and seeing just how primitive the trains can be in my part of the world. At first they marvel initially at the idea of going from Sheffield to Barnsley for £2, or Doncaster to Scunthorpe for little more than a fiver. Then the train turns up. Back in the mid 1980s British Rail needed a cheap solution to its rolling stock shortage on rural routes. The solution it came up with was to basically design a bus on rails, and so the Pacer train was born. When it was discovered that actually just slinging a bus chassis onto a set of train wheels, taking the suspension from the bus design rather than the conventional train set up, was a monumentally stupid idea they sold many of them to whoever they could find to buy them – the Islamic Republic of Iran Railway took most of them, and still operates them today boasting that they can achieve speeds of up to 120 kph. Needless to say, I wouldn't want to be on one doing much more than half that.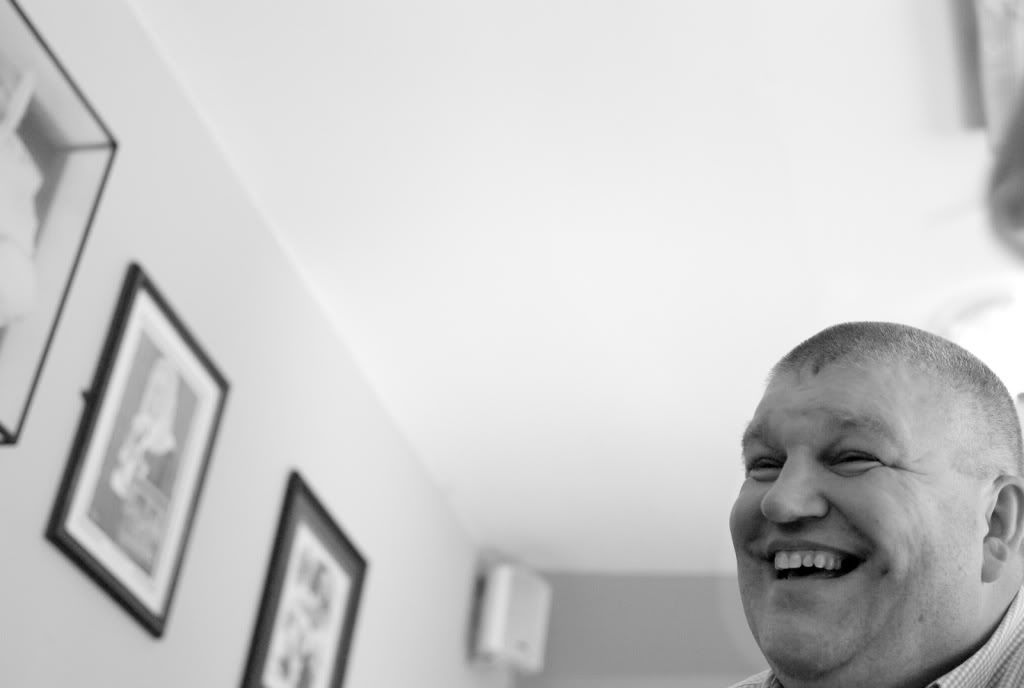 Steve's delight is clear to see as Clive sets off on another long and pointless rant about trains.
You'd be forgiven for thinking, as you board through the bus style flappy doors, that the designers of these things had thought of everything because the first thing you're greeted with is an extendable wooden ladder strapped to the wall by the entrance and exit. Why? Who can tell? I'd be interested to know if one has ever been used for anything other than drunken tomfoolery or petty theft. Never in my 25 years of railway travel have I ever found myself in a situation where I'm cursing my bad luck at not having an extendable wooden ladder. "She would have lived," nobody has ever told an inquest, "had we had an extendable wooden ladder on board the train." We wondered whether it could be used to get up on the roof during particularly busy periods.
As well as ferrying people around Iran, a good number of these class 140, 141, 142, 143 and 144 units (Christ I'm getting geekier) are used to transport northern people to northern places. Of course it's 25 years since these things were new, and they weren't particularly good to start with, so they are in desperately poor condition now. QPR fans on the stopping train to Scunthorpe, and then on the slow train to Barnsley on Tuesday night, were treated to a ride on the rail bus and looking around I couldn't see many impressed faces. Astonished, amazed, puzzled and deeply concerned – but not impressed.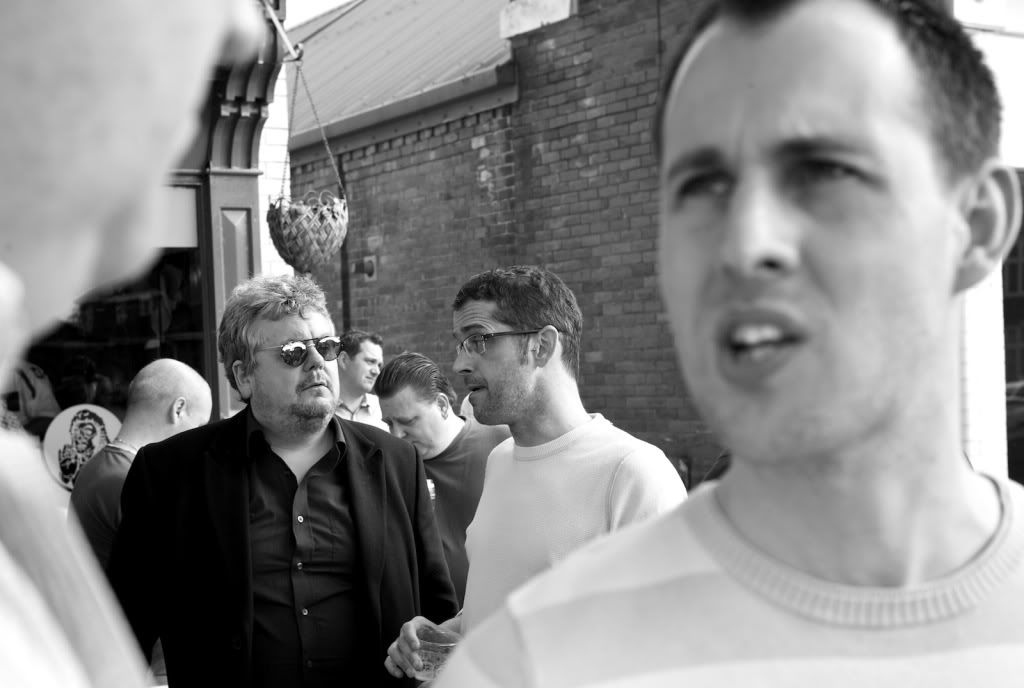 "… and they sold the spare rolling stock to Iran would you believe…"
The routes they run are the routes people in suits in big offices who get to make decisions would never possibly think anybody would want to use - Huddersfield to Sheffield through Penistone and Rotherham for instance – so they think they can send any old wreck to pick them up and they won't notice. In the case of the stopper used by the QPR fans for this game the route is Scunthorpe to Lincoln (25 miles south as the crow flies) via Doncaster, Sheffield and Gainsborough - which is a bit like running a London to Brighton service via Guidlford, Swindon and Basingstoke. It takes the best part of three hours to complete its trip, which means a marathon runner could actually beat it there.
In case you were wondering, I'm sort of combining the two travel write ups for Scunthorpe and Barnsley in this Awayday because my journey from home to the Scunthorpe ground is about five miles and was completed very swiftly by car – however dull six paragraphs about trains maybe, it cannot possibly be as bad as writing a review of a ten minute journey in my mum's car listening to her bloody Richard Clayderman CD. Plus I already have a travel rant prepared for the Barnsley column.
I braved the toilet on the train to Barnsley, a bad mistiming of lager consumption and toilet visits while on dry land left me with no other option, and although I was impressed to find an actual toilet in there rather than just a hole peering out onto the track everything else in there was much as I suspected. The main problem was whoever had been in there before apparently sat down earlier in the day on top of something that subsequently crawled up his arse, died and then slithered back out into the train toilet bringing the contents of his digestive system and some non-vital internal organs with it. The other issue was because the suspension is designed for buses rather than trains the ride quality on these things is similar to that of the wooden roller coasters at Blackpool Pleasure Beech and there's an awful lot of up and down and side to side. Being a man I find it difficult enough to aim piss successfully while standing perfectly still so this was an absolute nightmare.
Christ alive I'm even boring myself now.
Two moments of note from the return trips. Firstly, from Scunthorpe, Tracey disappeared off to the toilet for the best part of 20 minutes causing some concern – until one of the mobile phones rang and it was her confessing she'd forgotten where she was sitting. Secondly, from Barnsley, we were treated to the antics of an extremely elderly gentleman who announced midway through the journey that there were: "too many Japs, darkies and wops about" and then turned to give the carriage a wanker gesture after he got off at Meadowhall. Mind you by that point we were just glad to be on the train at all – due to leave at 2206 it actually hadn't shown up, and then disappeared from the electronic displays altogether. When it did arrive 15 minutes later we couldn't be sure whether it was ours running late, a later one running early, or some sort of ghost train fresh in from Iran.
The plan, eventually, is to replace these quivering wrecks with the old Thameslink sets – although to do that they have to wait for the new rolling stock to be ready on that line meaning that by the time they get hold of them they'll be around 30 years old themselves. Extraordinary forward planning.
Scores >>> Journey 6/10 >>> Cost 5/10
In the pub
A night out in Scunthorpe is not easily forgotten, no matter how much therapy you may have. The town has a handful of nightspots, all with their own charms and attractions. First there is The Light – so called because after converting a huge old church into a nightclub the owners stuck a light on the top of it that shines up into the smog from the steel works in the night sky and lets people know that it's open for business and ID checks will be applied liberally. If scantily clad 14 year old girls are your thing, step right this way.
Please do not be fooled into thinking this is a round of drinks for several people.
Secondly, just across Britannia Corner (where prostitutes charge by the quarter hour) there is the Der Schnapps Bar. Presumably, from the name and hoardings, this is meant to be some sort of German themed establishment although why that would be, and what they've done inside to make it so, remains unclear. This is a bar/club that looks like office space, with a low false ceiling and grey carpet throughout. The carpet squelches beneath your feet and people with a better sense of smell than myself say the stench of vomit sticks to the back of your throat and hangs there for days. On our last visit, on a Saturday night, there were eight people in there and the music was provided by a ghetto blaster in the corner which had a 45 minute CD playing on a loop – so if you stayed for an hour your bravery was rewarded with Michael Jackson's Billy Jean for a second time.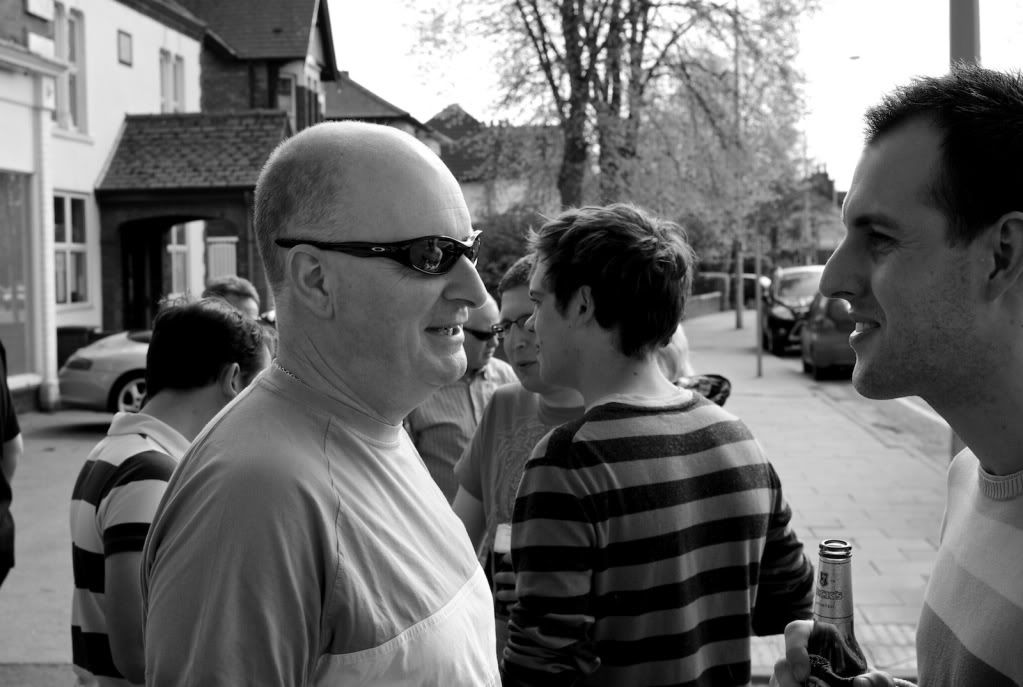 Rural Cambridgeshire's answer to Blade lays down the law.
Thirdly there is the Blarney Stone, which is one of those pubs that believes it becomes a club simply by removing the bar stools at 10pm. This is the nightclub equivalent of the bottom of the barrel where those too old or fat to pull elsewhere come to scrape whatever they can out of the dregs of society. On my one and only visit here the only half decent looking girl in the place caught my eye over her shoulder. Sadly, en route across the "dance floor" to meet her, it became apparent that her other eye was missing, replaced instead with a full on standard issue pirate eye patch. Avast.
"…and just behind that kebab shop there is where I copped off with the one eyed woman."
Fourthly there used to be, and will again be very soon, Henry Afrika's, a club with a very large (like 50ft high large) fibreglass head of a jungle explorer over the door and a wide and varied selection of garden furniture scattered around inside.
Recognising a gap in the market the town proudly welcomed 'Club 2000' at the turn of the Millennium. A brand new, shiny, purpose built club at the bottom of town that would also serve as a café during the day. I noticed at the weekend that just a decade on they've actually pulled it down, citing expensive upkeep costs.
To be honest the best thing you can do in Scunthorpe is go in the Honest Lawyer, and stay there. It's run by my dad's old mate Alan, who sits at the end of the bar all day sipping port over the racing guide, and offers a wide variety of beer, a basic matchday menu and live Sky Sports on two televisions. It's a miracle they got two televisions in there to be honest, as it's absolutely tiny, and most of the punters prior to our game spilled out onto the pavement to make the most of the warm weather. Lovely Lolita the sex doll was permitted access after covering up in some Hoops and fans of both teams mixed freely and we probably would have been better settling in and staying for the afternoon.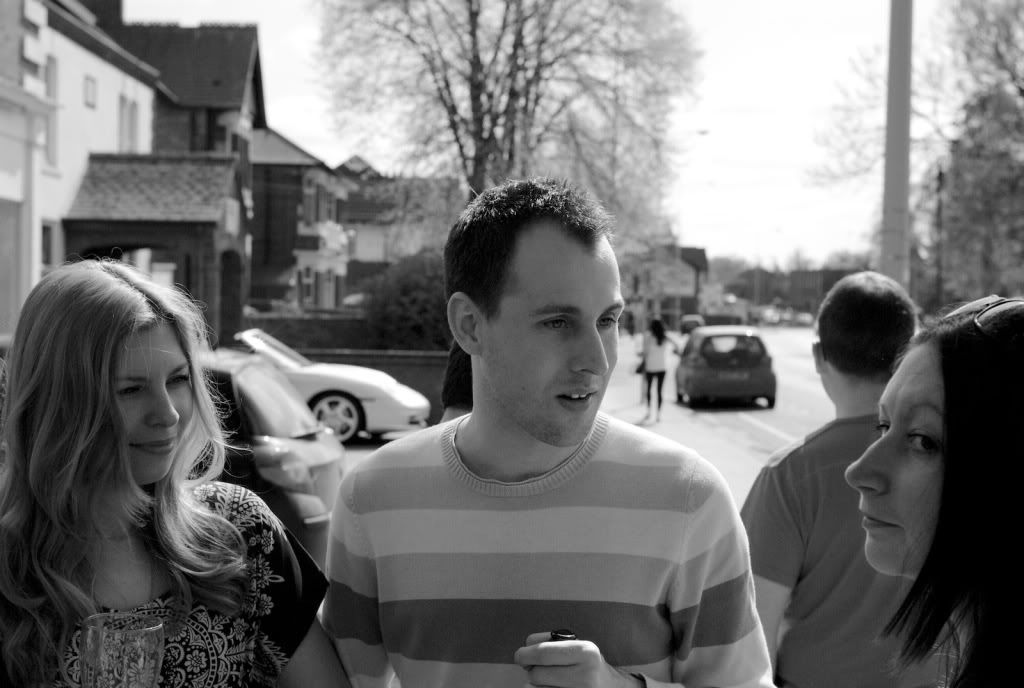 Proof that we hang on Tracey's every word.
Points off for the idiots who kicked a beach ball around the place until the inevitable pint spillage, which they then left to the overworked bar staff to clear up – grow up a bit lads.
Scores >>> Pub 7/10 >>> Atmosphere 7/10 >>> Food 5/10 >>> Cost 7/10
Total 81/140
AshteadR

added 14:27 - Apr 28




It was my first visit to Scunthorpe and I have to say I was pleasantly surprised. A good journey up from London. A 'sports bar' just round the corner from the station; and a local mini bus that drove us to the ground and back for Β£2 a head. Nice trip, shame about the game!

0 forum posts
166 news comments
15 match reports
0 blogs
0 polls
You need to login in order to post your comments